Compact mobile payment terminal - mPOS
The mPOS solution is innovative on the market. It requires a connection to a Bluetooth device that communicates with a smartphone, tablet or PDA.
Introducing an mPOS

This very small, compact, portable payment terminal offers the following benefits:
Optimum security thanks to a Bluetooth connection.
The terminal is light, unobtrusive and can be taken anywhere.
This solution is based on 3 elements

A smart card or magnetic stripe card reader, also known as a mobile terminal.
A mobile device such as a tablet or smartphone, which hosts the payment application.
An acceptance server that handles the banking application used to carry out banking transactions.
What's more, thanks to its easy readability and speed of payments, the compact mobile POS terminal (mPOS) has an exceptionally long life on the market.

mPOS : instructions for use

How it works is simple: you enter the amount of the transaction on your terminal, then your customer validates the payment by inserting their bank card or by depositing their contactless payment device. At the end, they will receive their receipt by text message or e-mail.
Benefits:
Works with a standard electronic banking contract: the comission rate remains between 0.4% and 0.8%
No commitment
Easy to use
Mobile/Nomadic collection
Dematerialised ticket (reducing the cost of consumable rolls)
Centralised monetic: as the name suggests, all banking transactions are concentrated on a Wweb interface, enabling retailers to track all their transactions over 13 months
Merchant autonomy in managing and tracking transaction history
Possibility of integrating the SDK into the merchant's application (SDK supplied free of charge)
The money is transferred to the account within 3 days
Solution approved by GIE Carte Bancaire
Hosted and developed in France
Multi-Acquisition solution: connected to all French banks
A transaction ticket can be sent back to the customer, even 12 months after the transaction.
The MPOS can be connected to a remote printer to provide receipts.
There are three functions for using the payment application:
Entering amounts on the application:

First of all, the merchant uses a payment application on their tablet/smartphone.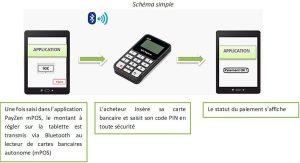 Then the merchant initiates a transaction from their merchant website on a mobile device.

Finally, the merchant develops his own application by integrating the SDK with the basic functionalities.

Software
The device is based on a Bluetooth operating system. So the terminal will need to be smart-linked via Bluetooth class 2.1 and communicate with operating systems.
Banking standards

Following a remote parameterisation process initiated by the acceptance platform with the acquirer, the banking parameters are then transferred back to the mPOS reader as soon as a transaction is initiated. Finally, the terminal has been accredited to PCI PTS 4.x RSDE, which brings together the latest requirements in terms of physical and logical security for smart card and magnetic stripe transactions with an monetic business application. What's more, the terminal connects to all peripherals.