AirViewer - Take remote control of your Android EPT, mPOS and POS machines
The AirViewer tool lets you take remote control of Android banking terminals, making it easier to maintain and support your customers.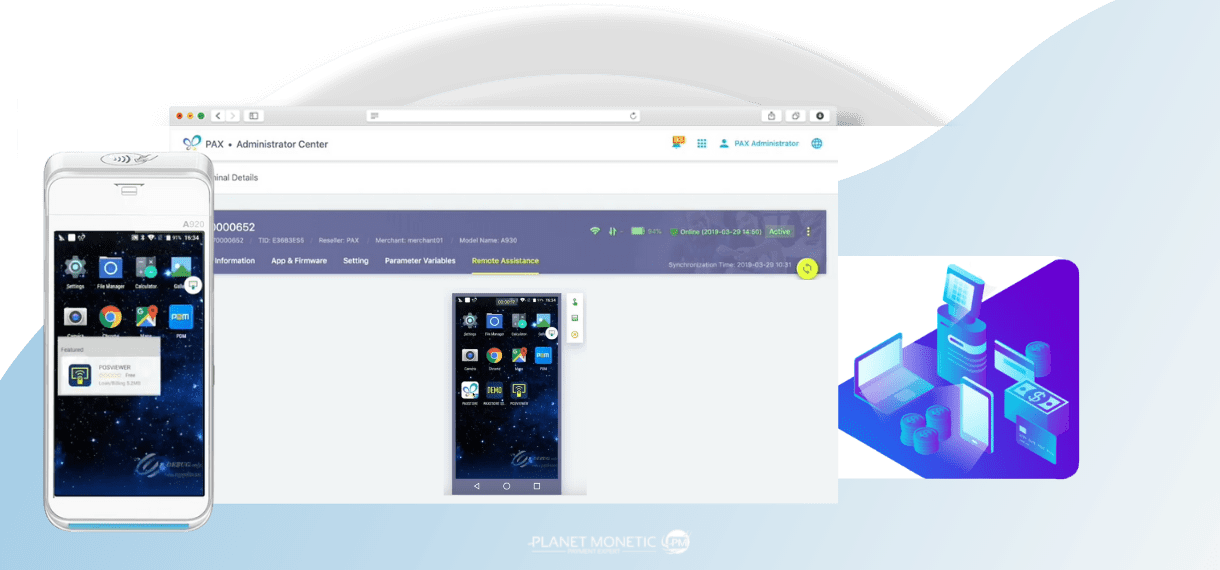 What is AirViewer
AirViewer is a remote assistance tool supplied by Pax Technology. It is a professional remote terminal assistance tool. With AirViewer, it is possible to control point-of-sale terminals from the PAXSTORE cloud platform at any time.
It's a powerful tool for improving support for retailers while significantly reducing costs. In particular, when a customer's terminal presents emergency problems, the administrator can take charge of it using the AirViewer application.
There are two types of remote access. Firstly, there is view-only mode with remote view. Then there's full remote control mode with full remote control.
Features and advantages
Remote installation

Fleet visualisation and inventory,
Classification by groups and signs,
Machine activation and deactivation,
View connected and disconnected terminals.
View the secure "live" screen

After validation by the user, you have visual access to the device screen,
You can then guide the customer through the operation of the device and the business and payment applications.
Remote control

With the user's consent, you can take full control of the device:
Move the pointer
Launch and stop applications
Access menus and control panel
Specific to mPOS: taking control from your Paxstore account requires no user intervention
Advanced functions

Adaptation of display quality depending on the connection
Hiding of sensitive input fields
File transfer to Android devices
Shortcuts to control panels
Compatible terminals
This application is available on the Paxstore or is directly installed on Android devices such as:
Pax Technology A80 fixed terminal
Portable terminals Pax Technology A920/A920Pro/A77/A50
Pax Technology E600/E700/E800/E66Mini POS terminals
PAX Technology IM30 self-service mPOS