Maxstore - The management tool for your Android POS machines.
The Maxstore is an ecosystem that connects more than 2 million devices, thousands of app developers and more than 150 marketplaces in over 80 countries worldwide.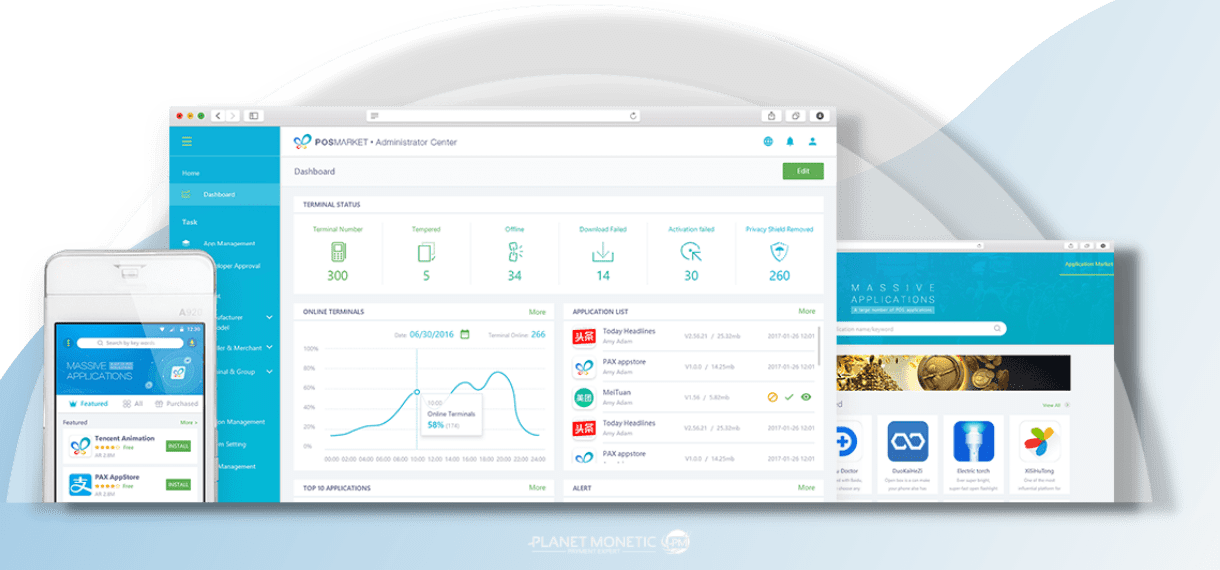 What is Maxstore

Maxstore is an innovative platform developed by Pax Technology. This platform enables users to browse and download software applications developed for the Android SmartPOS operating system.
It enhances the potential of these next-generation terminals by securely delivering payment and non-payment applications to smart devices.
A device management platform

This platform provides unprecedented control over applications, terminal properties, terminal management and monitoring.
Managers gain comprehensive information through clear and simple dashboards. What's more, they have a real-time view of devices in the field, enabling them to intervene much more quickly than with older POS hardware and previous generations of terminal management systems.
Bank terminal management:

Visualisation and inventory of the fleet
Classification by group and brand
Activation and deactivation of machines
View connected and disconnected terminals
Optimised terminal management

With the MAXSTORE, applications can be launched and restarted remotely, and deployed instantly and remotely to terminals. Parameter updates can be applied to groups of terminals as and when required. Preventive maintenance is also possible as multiple performance parameters are continuously monitored, minimising the risk of downtime.
Application management:

Remote installations and updates
Status of EPT, mPOS, POS installed base and versions
Upgrade campaigns and planning
Management of ANDROID OS system versions
Powerful additional services

Maxstore is easy to use, thanks to a modern graphical user interface. In fact, it has a hierarchical database to meet the needs of the multiple players in the ecosystem.
Finally, it offers next-generation device management capabilities thanks to a modern, digital platform. It simplifies administration with real-time data reporting. This enables the delivery of relevant data analysis and operational intelligence.
User management:

Viewing profiles
Management & administration profiles