Ingenico PRIUM-4 Life Card Terminal
The PRIUM-4 carte vitale terminal is a solution for healthcare professionals. It enables health insurance cards to be updated, and electronic medical forms to be created and signed.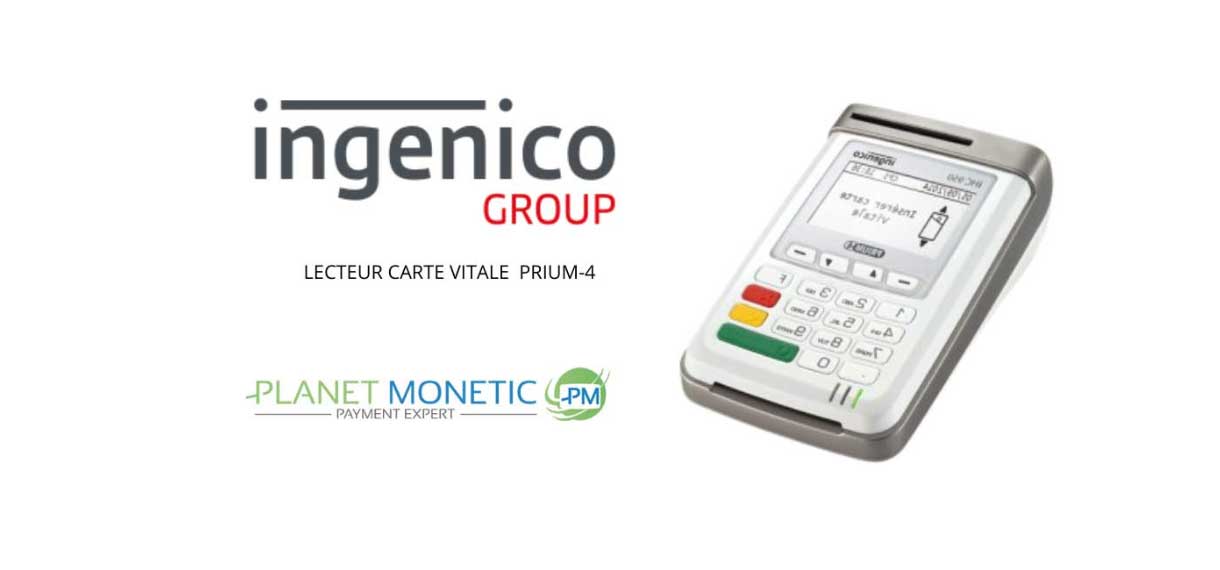 An optimised all-in-one solution

Ingenico's PRIUM-4 solution enables the creation, secure and remote transmission of Electronic Care Sheets (FSE). It also provides access to Shared Medical Records (DMP) and Health Insurance services from the workstation. The PRIUM-4 health insurance card reader has an integrated function for updating health insurance cards. The new software version of the terminal is compatible with Stellair Intégral (subscription required). It gives GPs and specialists access to the SESAM-Vitale 100% online billing service and remote transmission of FSEs.
Redesigned ergonomics
Compact and stable, the PRIUM-4 solution has been designed for intensive use. PRIUM-4 fits in easily wherever it is placed (on the work surface, keyboard drawer, etc.) without taking up valuable workspace. What's more, carte vitale can be inserted vertically or from the front, depending on the layout of the terminal. Easy to use with its large graphic screen and keypad, the PRIUM-4 terminal clearly displays information to guide users in real time. Visual and audible signals are optimised to adapt to any operating environment.
An intelligent, scalable solution
The dual-mode solution guarantees long-term compatibility with software environments approved for SESAM-Vitale billing. Now compatible with the Stellair Intégral service, PRIUM-4 can be easily upgraded to the 100% online Olaqin service. This will enable GPs and specialists to bill SESAM-Vitale and electronically transmit FSEs. Lastly, the terminal can read contactless media (e.g. NFC) to meet future needs for secure authentication and traceability.
Advantages:
L x W x H (mm): 97 x 150 x 50
Weight (g): 500
Memory: 16 MB RAM/128 MB Flash
128 x 64 pixel black and white graphic display
Power supply: mains plug and HDMI cable
Operating system: Windows, MacOS, Linux