A cash register application integrated directly into the POS machine
Planet Monetic offers a checkout application integrated directly into the payment terminal. Mini@Bill is an application from Fülle.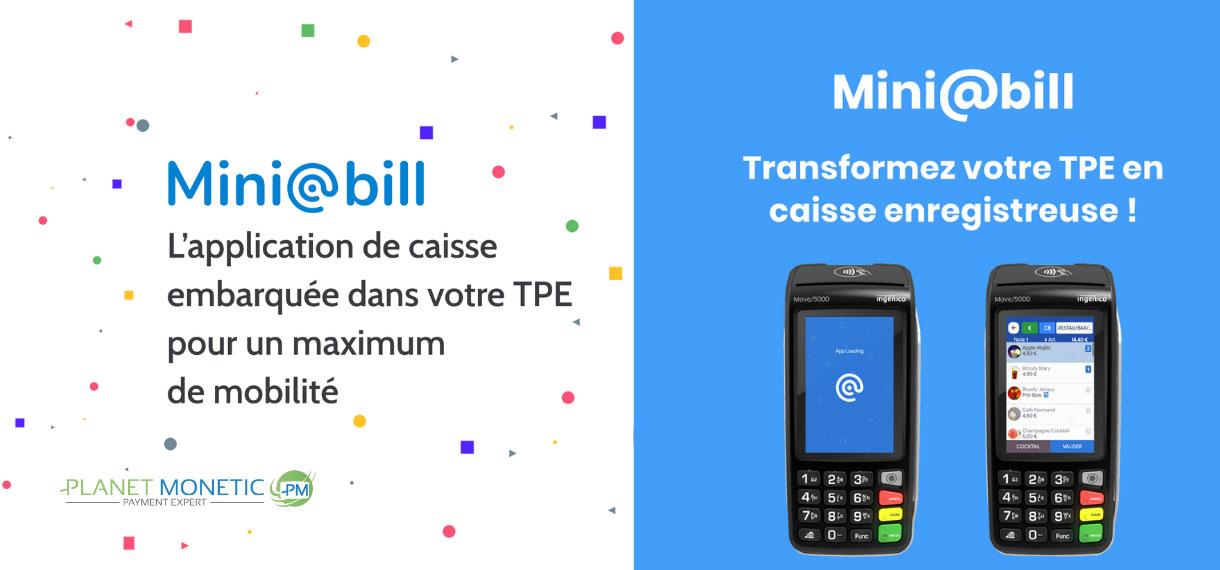 An ecosystem that makes your business stronger

Fülle's Mini@Bill application, which complies with the new regulations on cash collection, can be used on a range of devices including the Ingenico Desk 5000 and the Ingenico Move 5000. First and foremost, this application enables retailers to manage invoicing, cash collection and sales data analysis.
The Mini@Bill application

A modern, intuitive POS application embedded in the POS machine.
Compliant with 2018 tax requirements.
Delivered with an individual certificate relating to CGI, art.286, 1-3 bis)
Suitable for different types of business (restaurants, bars, bakeries, pastry shops, grocery shops, butches, initerant businesses, florists, hairdressers, beauty salons, etc.)
Data backup and security
Offline mode lets you use the application without an Internet connection for two days.
Multi-establishment, multi POS management.
Ticket printing using the POS machine built-in printer.
Multiple user management with associated rights and authorisations.
The management area

A dedicated space for merchants to analyse and manage their product catalogue.
View sales in real time.
Sales analysis by category, product, point o fsale, store and salesperson.
Accounting exports in CSV format.
Customer file management and export.
Administration area
A dedicated distributor area for managing your customers
Creation of customer accounts
Manage expiry dates for each account
Manage licences independently
Download the latest versions of Mini@bill and view your installed base
Access to Fülle support
Key points to remember
1/ A cash register: the cash register module takes the form of an application that is installed directly in the POS terminal. It is suitable for all types of business.
2/ A management area: the management area enables merchants to monitor their sales in real time, manage their product catalogue and export their accounts.
3/ An administration area: the administration area is entirely dedicated to the distributor and provides direct access to merchant tracking. It also facilitates licence management and maintenance.