PAX Pinpad TECHNOLOGY Q30
The Q30 pinpad from Pax Technology is a connected pinpad that operates as a centralised integrated electronic payment system. It is linked directly to the cash register software without the need for a payment terminal.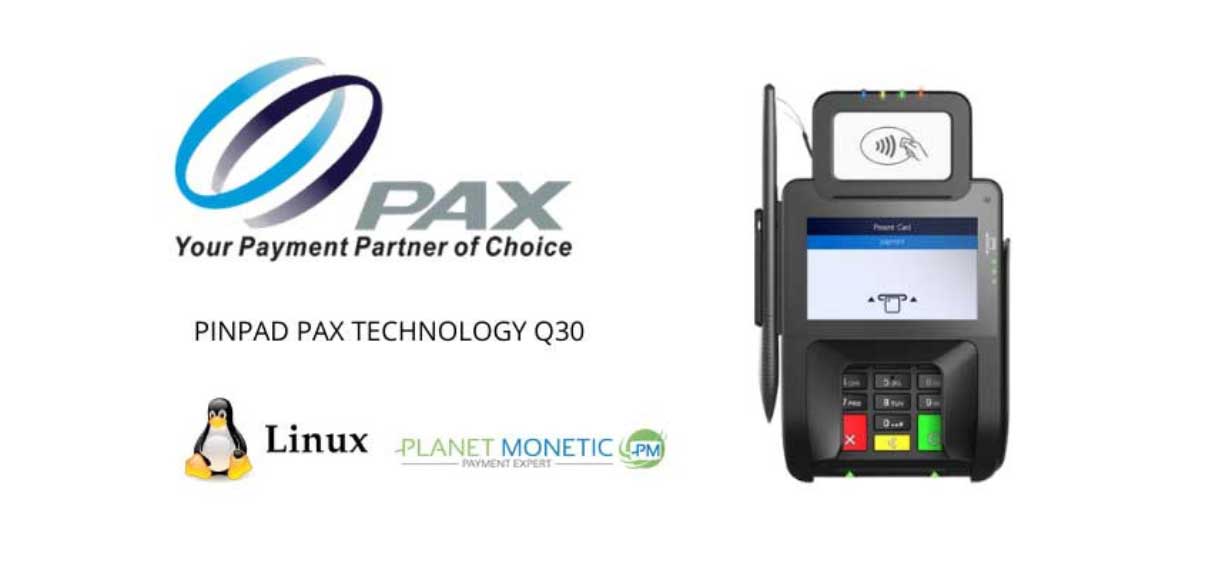 The Pinpad integrated into the cash register software
PCI PTS 5.x SRED certified, the Pax Q30, is a new generation high performance multifunction integrated mode pinpad ideal for the retail market. The versatile Pax Technology Q30 pinpad can operate in virtually any retail environment.
Built with a Linux OS processor, this pinpad includes extensive memory and storage capabilities. Designed with a range of connectivity options giving the Pax Q30 the ability to operate as a fixed stand or as a centralised – integrated – payment transfer device.
Exceptional performance
The Pax Q30 is a new-generation pinpad that enables retailers to connect to any type of cash register, kiosk or self-service machine (unattented). The Pax Q30 features a large, high-definition 4-inch touch screen that delivers vivid images and videos.
The Q30 client box enables merchants worldwide to accept all types of transactions, with all types of cards: American Express/ MasterCard contactless. It also accepts mobile wallet payments and NFC-compatible payments such as Apple Pay, Samsung Pay, WeChat Pay and AliPay.
A sleek design
Its elegant design, combined with the highest security certifications and a fast processor, make the Q30 pinpad a high-performance product. It can operate in virtually any retail environment.
The high-definition touch screen (199 mm x 112 mm) incorporates electronic signature capture and numerous other connectivity options. The Pax Q30 can operate either as a fixed or transfer device, in a fully integrated or semi-integrated configuration.
Product advantages

Cortex A9 processor for faster performance
Easily identifiable contactless reading track
Front camera and excellent image and video resolution
Reads barcodes and QR1D/2D codes
Electronic signature available
Large memory capacity
Prolin operating system (Linux OS)
Integrity of multitasking OS applications
Connection via: RS232, Ethernet, USB, WIFI, Bluetooth and 4G
Extended plug-and-plan functionality
Integrated cache code