PAYPHONE PAX TECHNOLOGY M30
The M30 from Pax Technology is the first PayPhone to combine a point-of-sale cash terminal and an Android smartphone in a single device.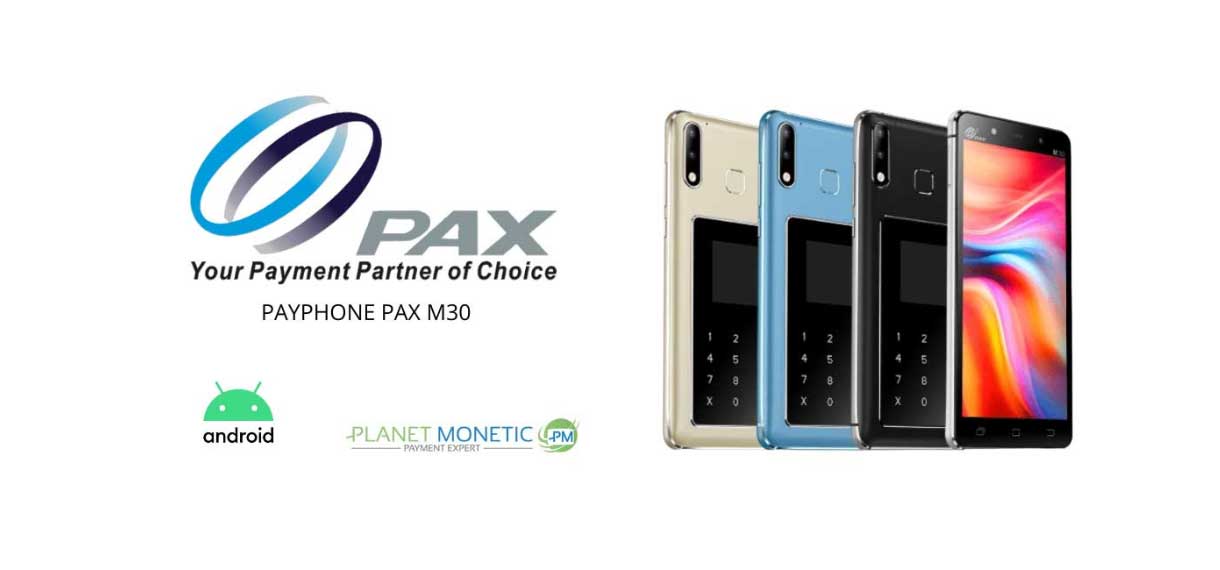 Smartphone and mPOS all-in-one

The M30 is the very first PayPhone to combine all the benefits of an EMV & PCI 6 certified POS terminal and a powerful Android smartphone in a single device. As a result, this device is multifunctional. It can be used as a simple smartphone to send text messages, share on social networks, take photos, take calls and download applications from Google Play. As well as being a normal smartphone, the Pax M30 can also be used to accept different methods of payment, manage sales and manage stocks.
More than just a smartphone
The Pax M30 has the shape of a very modern smartphone. It has a payment device on the back and a slot for inserting bank cards. It has a powerful camera and a long-lasting battery. What's more, it has microphone noise reduction to ensure perfect sound quality for telephone conversations. This PayPhone is designed with the latest international payment industry certifications to ensure peace of mind when selling products or services. This Payphone will be available in 3 colours (black, blue, white).
Support for all payment methods
The PayPhone M30 is compatible with all payment methods (magnetic stripe or chip card). It also supports contact and contactless payments, new payment solutions such as electronic wallets (N26, Paylib) and smartphone payment applications (Apple Pay, Samsung Pay, etc.). The Pax M30 also supports QR code payments.
Advantages
5.5″ HD IPS capacitive touchscreen
L x W x H (mm): 152 x 72.2 x 10.9
Weight (g): 218
Compatibility: 4G, Wifi, Bluetooth 5.0
Accepts all NFC, contactless, mobile wallet and EMV payment methods
Powerful 3000mAh x 3.85V battery
Dual 13MP + 5MP rear camera and 8MP front camera