PAX TECHNOLOGY IM10 linux terminal
The POS Pax IM10 is a contactless-only ATM terminal. It runs on Linux/prolin OS software. It accepts all payment methods in self-service/unattended mode.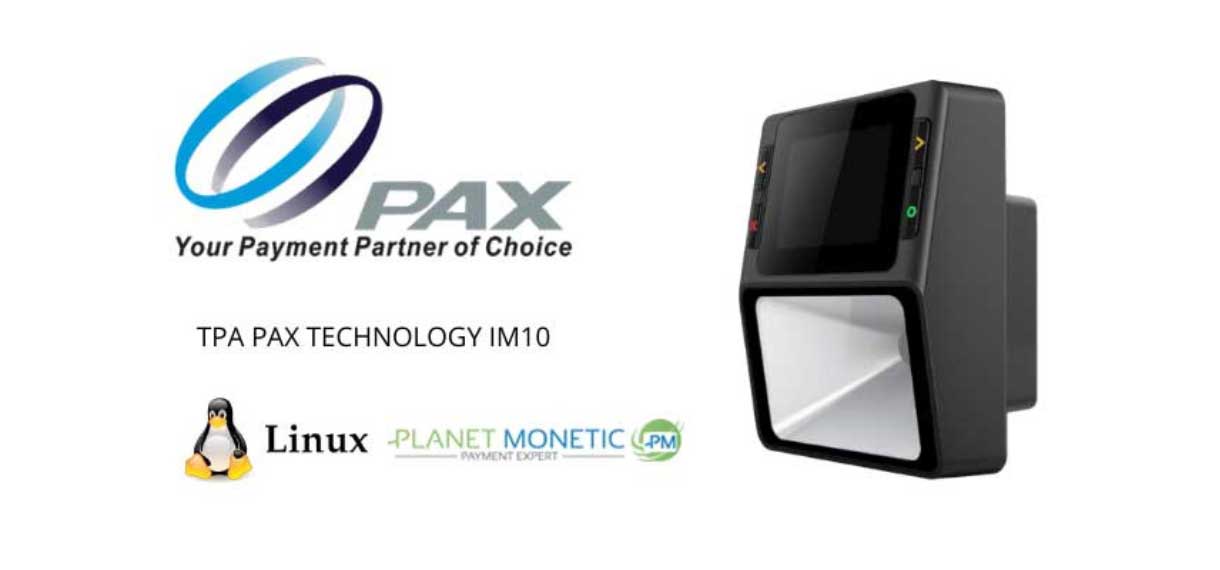 Contactless only payment

To meet the growing demand for NFC contactless payment, PAX Technology offers the POS IM10. The latest terminal for self-service/unattended payment machines. The POS Pax IM10 is the latest in the IM series, which are all-in-one payment devices with a small footprint. What's more, it features an ergonomically positioned QR code scanner.
The POS Pax IM10 provides clear images with its 2.8″ colour display screen. The integrated NFC contactless reader acts as a standalone payment device in its own right, which can also be integrated into larger systems such as kiosks and vending machines. The Pax IM10 offers contactless payment only. Integration with the optional CM20 box provides 4G, 3G, WiFi and Ethernet connectivity.
It should also be remembered that the contactless payment limit is €50.00 for bankcards in France and unlimited for smartphones.
The rise of QR code payment
The flexible design of the POS Pax IM10 supports a fully integrated (via POS) or semi-integrated payment processing model. Semi-integration via the cloud or direct communication with the processor (via cable) is supported. The semi-integrated payment application in the Pax IM10 device supports point-to-point encryption and is EMV Level 3 certified with all major US processors.
As NFC contactless payments become more widely accepted, QR codes are also emerging. Firstly, QR codes offer customers all the benefits and convenience of combining their loyalty application and payment method on a single platform. Secondly, QR codes allow merchants to offer flexible payment methods. The POS Pax IM10 is suitable for all types of structure.
With an IP56 and IK08 rating, the durability of the POS Pax IM10 means it can be used for low-value, high-volume transactions, particularly in public areas such as vending machines (coffee machines, drinks dispensers, connected fridges, etc.), transport ticket vending machines, car parks, car washes, launderettes and more…
It belongs to the same family as the POS Pax IM20, which is contact and contactless compatible.
Advantages
Linux/Proline OS
2.8-inch anti-glare RGB screen
Bluetooth 5.0 + optional dual-band Wifi + optional 3G/4G
Physical protection
Contactless card reader
IP56/IK08 standards
Product not currently approved